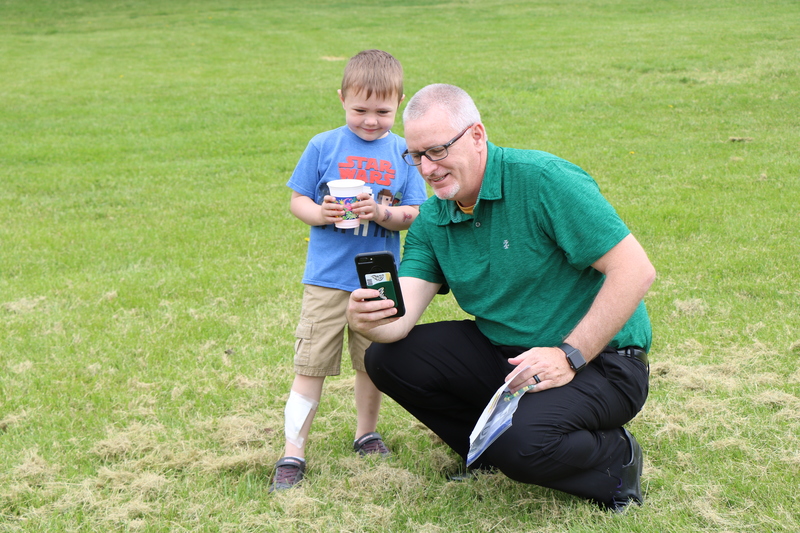 Dr. Mike Curry
I am honored to serve the students, staff, and community of Abingdon-Avon CUSD #276.
My "why" is simply: Spend everyday working to ensure equitable learning opportunities for all students.
Personal History:
I have been married to Allyson Curry for 27 years. She is the rock of the Curry Family. Our daughter, Emma is a graduate of A-Town (2020) and a second-year at Knox College. She is member of the Prairie Fire Volleyball Squad. She is studying History. Our son Adam is a graduate of Monmouth College and is currently in the Master's Degree Program at Western Illinois University (his parents Alma Mater). He is also the current Director of Football Operations for the Leatherneck Football Program.
Professional Information:
2018: Chief School Business Official Certification from the University of Illinois-Springfield. 2016 - Doctorate of Education from Western Illinois University. 2007 - Specialist in Education Degree from Eastern Illinois University.
I am a member of the National Superintendents Roundtable.
I am a member of the IASA School for Advanced leadership
I serve as a member of the Illinois Association of School Administrators and Illinois State Board of Education Advisory Committee.
Current and Previous Leadership roles include:
President of the KWSED Special Education Cooperative
President of the Western Region of the IASA,
President of the Western Illinois University Roundtable.
Superintendent's Message for 2021-2022 School Year
It is hard to describe how humbled I am to have served this community for what will be my 5th year. Time clearly passes quickly when good things are happening. As we plan for a return to full days and full in-person learning, we must acknowledge that there will be unknowns, potential pauses, and mitigations that not everyone will appreciate. Our sole focus is to maximize in-person instructional time in whatever form necessary to ensure quality teacher-student time.
Our major construction initiatives are moving along at a good pace and I believe will open our new PreK classrooms and our new HS addition on time. Our Modular classrooms are ready for the second grade. I believe that our move to a unit model for grades 2-5 will be a successful story for all involved. By bringing our Avon Elementary and Hedding Grade School students together sooner, we believe in building positive friendships, uniform academic opportunities, and strong grade level learning communities.
I borrowed this closing from my message 4 years ago - because it is still relevant even during a pandemic: At the end of the day, this is a fantastic district with great people trying hard to serve our students and staff the best way they can. I look forward to continuing along this path of improvement through focused instruction, relationship-building, and academic and social supports for our students.
Superintendent's Message for 2020-2021
Well, this has been another challenging year for students, staff, and community. The Pandemic has led our students and staff to make major shifts in learning and teaching. It has forced our families to make major shifts in childcare and in-home learning. Our D276 family has navigated full remote, half days, and the rollercoaster of COVID shutdowns. Our physical space and capacities made it very difficult to provide the old "normal" full day schooling. Additionally, for the majority of the 20-21 school year, our Remote-student percentages have hovered near 25%. The quandary of how to serve all students, provide the safest environment, and meet the guidelines set down by the Illinois Department of Public Health has been my focus all school year. The resilience of staff and students has been remarkable. I am fully confident that our district will come out of 20-21 having provided the best educational opportunities possible for our students in the midst of a pandemic and ever changing guidelines.
Superintendent's Message for 2019-2020
Greetings! As we begin another great year in the Abingdon-Avon School District, I wanted to provide insight on summer activities and what the beginning of the 2019-2020 school year has in-store. I am beyond ready for our students to return to school. Students and staff are the reasons for the work I do everyday. Honestly, the graduation ceremony for the Class of 2019 seems like yesterday. Even though most summers seem to "fly by," this summer has been a blur. We have undertaken several major construction and infrastructure upgrades, spent time hiring some amazing new people, and looked at ways to enhance our educational programming. Our new hires and position changes will be highlighted over the first few weeks with short introductory videos that will be shared on our Facebook page. The hope is to bring lighthearted, in-person introductions to our followers. In the current era of teacher shortage that schools are facing, we feel lucky to have landed great people in our district this year. Keep an eye out for the daily videos coming very soon.
Over the past two and a half years, the district has received an additional $402,300 in State Tier Dollars to address gaps in adequacy in respect to more affluent districts. Districts across the State may use these funds in any manner they so choose. Your district used the additional dollars to fund the following new academic positions and programs:
Math Coach (two years+)

Writing Coach (two years+),

MakerSpace Coordinator,

SuperKids K-2 research-based reading program,

Math Interventionist at AES/AAMS

New Open - EL reading curriculum grades 3-5.

Elementary Dean of Students

Technology Integration Specialist (Technology Coach)

An additional social worker/school-home liaison for our Avon Campus.
We are confident that we are using the Tier funds we receive to provide additional educational and social-emotional support for our students.
In the last 10 months, we have made improvements to the physical structures and security in all buildings. Several of these improvements are completed, while others are still in progress. The cost of these improvements has (to date) totaled approximately $2.7 million. The improvements include: a more secure entrance at Hedding Grade School, a new boiler at Hedding Grade School, a new roof at both Hedding Grade School and Abingdon-Avon High School, updated security cameras district-wide, improved telecommunications across the district, upgraded fire alarm systems in 3 buildings, upgraded high school library, new school buses on each route, and fencing work at Hedding Grade School.
We are in the planning process for continued upgrades at all buildings. The district has been able to make these improvements with a combination of Fire, Safety, and Prevention Fund dollars, County Facility Sales Tax income, and reserve funds. We appreciate your understanding of all the hiccups that come with 4 major construction projects taking place in a summer time-frame.
Every year, I create a list of my Big 3. This list includes my areas of focus for each upcoming school year. Superintendents do not run classrooms, athletic teams, lunch programs, or school buildings. In my opinion, good superintendents hire great people, mentor their employees, provide supports for students and staff, and set a path for the district's future. To quote the author Steven Covey, "The main thing is to keep the main thing the main thing." I use my yearly Big 3 to keep my main things - the main things. For 2019-2020 my Big 3 are:
Create and Implement a Five-year District Improvement Plan

Focus on Whole Child Success

Highlight our Successes District-wide
Over the next year, I will be posting stories and updates related to this list.
You can also follow the district and individual buildings on the A-Town App, Facebook, and Twitter. The A-Town app is the quickest way to get information on school closings, dismissal changes, sports schedules, and news in the district. Search the App Store for Abingdon-Avon CUSD #276 and download. Make sure to accept notifications.
In closing, the men and women who work in D276 are dedicated to the service of all students. It is our goal to provide all students and staff a high quality, inclusive, and compassionate learning environment that inspires our students to be the best versions of themselves.
Ready for 2019-2020,
Dr. Mike Curry
Superintendent of Schools
"Every day is a great day to be a Tornado!"
Superintendent's Message for the 2018-2019 School Year
Full disclosure: I am super excited to see what the next nine months will bring. For me, there is no better season than "School Season." It has been a pleasure to lead the Abingdon-Avon School District for the past 14 months. Among the numerous changes that have occurred in the past 14 months, the district has seen growth academically, updated numerous facilities, and increased our social media presence. None of these improvements occur without a hard working teaching corps, dedicated support personnel, a flexible and talented summer maintenance and custodial staff, and a forward-thinking administrative team.
Over the summer, Hedding Grade School received a refresh, consisting of a complete paint makeover and the installation of a new safety window in the front entrance. School safety is a major concern for the board, staff, and administration. Over the next couple of summers, we will be continuing to find ways to make our schools as safe as possible. In another effort to improve aging classrooms, the 6th grade wing on the Avon Campus has been overhauled into progressive classrooms, in-line with many of our remodeled classrooms.
In an effort to do what is best for kids, the District Office moved out of Hedding Grade School (all in one week). This move allowed for the division of an overcrowded classroom into two separate classes. A private space was created for students, counselors, and social workers to visit and address the increasing social emotional and mental health issue that young students come to school with every day. Additionally, the library was moved in order to keep all of our K-2 classrooms as close to each other as possible. The inclusion of five Knox Warren Special Education Cooperative Center-based classrooms across the district, while an awesome benefit for our students, left nowhere in the district to relocate the Central Office. The office is now offsite in a public setting. We can be found at 507 N. Monroe St. Suite #3.
Additionally, in order to continue to work towards providing the best education we can for our students, the district hired two instructional coaches to support our staff as we focus on writing and math on a deeper level. To allow for deeper thinking and creativity, the district has jumped into the Makerspace concept with both feet. At the end of last year, we purchased enough technological and hands-on creative resources to fully support a Makerspace at Hedding Grade School, Avon Elementary School, and AAMS.
At the end of the day, this is a fantastic district with great people trying hard to serve our students and staff the best way they can. I look forward to continuing along this path of improvement through focused instruction, relationship-building, and academic and social supports for our students.
Have a GREAT 2018-2019 School Year,
Dr. Mike Curry
Superintendent